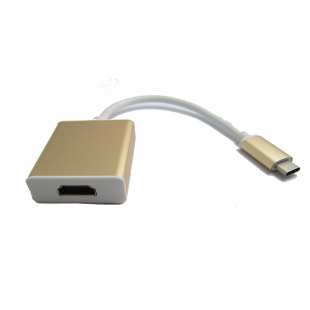 USB 3.1 Type c to HDMI(VGA) Adapter
This USB3.1 TYPE C to HDMI(VGA) Converter provides high throughput using the USB 3.1 bus and supports the high definition monitors with high resolution and high refresh rate. The USB3.1 TYPE C Converter allows you to connect your desktop PC or laptop's USB port to an extra monitor or TV.
Features
USB3.1 TYPE C 5GMbps bandwidth for connecting to computers
Supports HDMI 1.4 and former versions
Input port: USB3.1 TYPE C Male x1
Output port: HDMI (VGA)Female x1
Supports display cloning and extending.
USB video supports Primary, Extended, Mirror, Rotate
Reduced power operating mode ,supports bus-powered and self-powered operation
Supports Operating system for computers:
Windows: Windows 7, Windows 8, Windows8.1 ,Windows Vista, Windows Server 2008, OSX v10.7
Video Amplifier Bandwidth: Max to 1.65Gbps/165MHz
USB Type-C Additional Characteristics-Mechanical Specs(preliminary):
USB 3.1:Gen1(5Gbps)/Gen2(10Gbps)
New smaller size-Similar to size of USB 2.0 Micro-B
Receptacle opening:~8.3mm*~2.5mm
Durability:10,000 cycles
Improved EMI and RFI mitigation features
Power delivery capacity:3A for Standard cable,5A for connectors
Enhanced power delivery options-Extended 5V current ranges plus USB
PD